SOLAR FOR CORPORATES
Solar industry is witnessing increased adoption by both, small and large corporations due to a sharp decline in the cost of solar. This has not only made solar technology viable for business owners but it has emerged as a low-cost power generation source which contributes to the bottom line. Not to forget, use of solar energy promotes businesses' commitment towards green energy and the environment.
The fact that India's installed solar capacity in 2015 was almost equivalent to what was added cumulatively in past three years is reflective of the success solar has seen nationwide. An overwhelming majority of these projects happen to be rooftop arrays but ground mount systems and carports are growing rapidly as well.
Benefits of solar for your business:
1. Sustainable power source
2. Reduce your fixed energy costs
3. Accelerated depreciation benefits
4. Increased net income
5. Faster ROI
OUR PROJECTS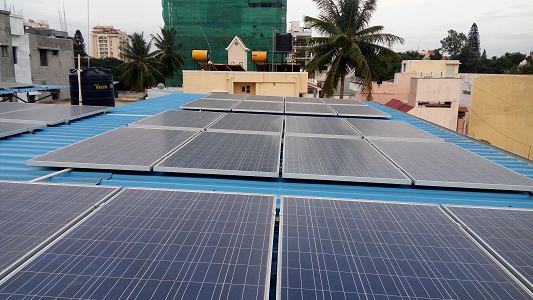 Bangalore (Frazer Town) 15kW Grid-Tied System