NABARD OFF-GRID PUMP
Agriculture plays a vital role in India's economy. Over 58 per cent of the rural households depend on agriculture as their principal means of livelihood. Agricultural sector in India is facing a power crisis, making small and marginal farming economically unviable. Solar water pump is emerging as reliable source for irrigation, which can enhance agricultural productivity to a greater extent.
In India with the benefits of loan and subsidy, MNRE and NABARD bank jointly set the target to install 1,00,000 solar water pumps in 5 years. This will immensely benefit to the farmer by eliminating the use of diesel.
WHY PLAY SOLAR
We are Authorized MNRE Channel partner for NABARD Solar Water Pumping program. We extend best technology oriented service for Bore well, Open well, ponds, ranging from 1 HP to 10HP Under Nabard Scheme
BENEFITS OF INSTALLING PLAY SOLAR WATER PUMP JALSOL - NABARD:
Remote monitoring System (Operates Without Human Interference)
Feature of GPS to monitor maximum water flow
Hot dip galvanized structure, can withstand against wind speed up to 150km/h
Quick and Easy Installation
Assured best Service during warranties & non-warranty period
Provides Sustainable Irrigation Solution depending on the type of Irrigation method.
Download Jalsol Brochure
GRID-CONNECTED PUMP
In many areas across India farmers are using grid connected pump, the power is intermittent because of which the sufficient irrigation is a big challenge. grid-connected solar water pump brings solutions to intermittent power cuts. In collaboration with electricity authorities and local utilities, it could be encouraged to connect solar pumps to feed surplus power back in the grid.
BENEFITS OF A GRID-CONNECTED PUMP:
Relief against unpredicted power cuts
Lowers Electric bills
Earns from excess
Easy Returns (Quick ROI)
Low upfront cost
OUR PROJECTS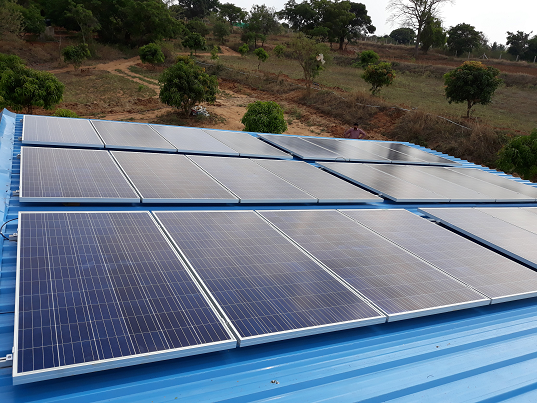 Hosur 7.5HP Off-Grid Pump